The trip to the ETO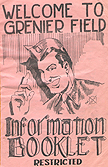 April 27 -- Grenier Field, Manchester, NH.

April 29 -- Goose Bay, Labrador.

May 1 -- Meeks Field, Iceland.

May 3 -- Nutts Corner, Ireland.
May 29 -- Signed in on post, 446th Bomb Group, 706th Bomb Squadron, Bungay, England.


(Left) two of three silk "escape" maps from my dad's crew, (Right) 706th squadron patch.