My great-uncle's World War 1 story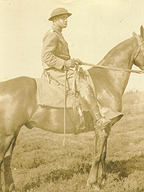 The following pages relate the story of my great-uncle's service with the U.S. Army, the spotlight being on his time spent in the 2nd Division during World War 1.
His name was Albert P. Ringressey. He was a lieutenant in the 15th Field Artillery, 2nd Division, in World War 1. But his service started long before that world war and lasted well into the next. I know much less about Albert P. Ringressey's service than my father's World War 2 service. My greatest research tool is a frame of medals that were his. These provide campaign names and even specific battles that he participated in.
Pre-World War 1 Campaign Ribbons
Philippean Insurrection

China Relief Expedition

Cuban Pacification

Mexican Service
World War 1 Battle Ribbons
Chateau Thierry

St. Mihiel

Verdun
Awards for Service
Purple Heart

Silver Star (twice)

Croix de Guere
UNDER CONSTRUCTION...Come back soon!