The one that got away! This rare, 1-piece CS button, is probably the rarest button I'll ever find. And unfortunately when I found it I was working as a volunteer for the NPS doing a metal detector survey at the Antietam battlefield. And yes, I had to hand it over. Bummer.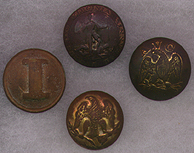 Some that didn't get away.
Some of the few C.S. buttons that I have found.
A Virginia from Williamsburg, cast "I" from Wilderness, AVC from Gettysburg, and a Staff from Fredericksburg.